I'll be the first to admit I have a bit of an obsession with designer clothes, house wares and furniture. That in itself is not a problem, until you consider the fact that I am a teacher. I don't have champagne taste on a beer budget, I have champagne taste on a tap-water budget! I joke, but it is true.
I feed those obsessions with really good knock-offs or DIYs. This week, I am posting my top 5 favorite Ballard Designs knock-offs.
5. Burlap Mr. and Mrs. Pillows with insert, $50-$59 at Ballard Designs
The knock-off, a DIY by
Seth and Kait, $3.99
4. Set of 6 Mercury Glass Bud Vases, $79 at Ballard Designs
**This is a huge trend right now. You can find mercury glass vases at Pottery Barn, West Elm, and Birch Lane.
The knock-off: Mercury Glass Bud Vase, $6.95 each at
Luna Bazaar
You could buy six of these, and plus tax, it would still be cheaper than Ballard Designs.
3.
Bee glass drinkware
, Ballard Designs, $49-55
The knock-off, Christmas Tree Shops, $1.25 each
2.
Brigitte Dinnerware, $29-$119
The knock-off: Gray Artisan Pottery, Christmas Tree Shops, $8.99- $23.49
1.
Eliza Serving Bowl, $35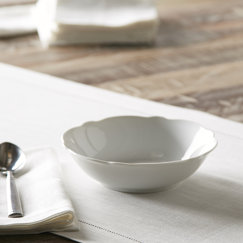 Birch Lane Crescent Serving Bowls, $44 for 12