**This post contains affiliate links.
A week ago, I started a raffle on my blog for a brand new Lunch Blox sandwich sized set. That raffle will finish on Saturday, September 12. In the meantime, I am using my Lunch Blox five days a week and I love it! Here are two lunches I have enjoyed this week:
This picture is from the giveaway announcement, but I've eaten this same lunch this past week as well. The blox contain cottage cheese, watermelon and cantaloupe, apple slices, carrot sticks and granola for the yogurt. Yogurt, fruit, crackers and peanut butter packaged separately.
How about this for a healthy and tasty lunch? Tomatoes, bell pepper, baby carrots, watermelon and cantaloupe, and cottage cheese. Apple slices, peanut butter and fruit cup packaged separately.
Here are some other Lunch Blox ideas from around the web: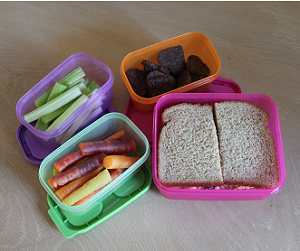 Here, this blogger packed a sandwich, celery sticks, carrots, and small cookies.
Come back next week for some more Rubbermaid Lunch Blox kit ideas :)