I am in love with farmhouse decor. I'm really in love with farmhouses, but we just moved a year and a half ago, and I'm pretty sure we couldn't afford an antique farmhouse anyway. And if we could, we would have to buy one that needed A LOT of work, and well, we both work full time and the renovation would take several years to complete. So, if you don't mind, I'm going to disguise my 2008 Ranch house (which I love, by the way. Not complaining) as a modern farmhouse.
There are a number of styling techniques you can use to create a farmhouse feel without taking on a major renovation project. Yes, we do have a few of those in mind, but nothing this year. In about two years, we are planning to remodel our bathrooms. This summer, we hope to do a minor kitchen updating.
One of the easiest, and in my opinion, most fun ways to create a "farmhouse" vibe is to check out thrift shops and antique stores, to see what sort of vintage treasures you can "turn up."
1. Use Vintage elements
My mother and I both inherited my great-grandmother's collection of vintage "paneled grape" milk glass. I have scattered several pieces of milk glass throughout my home. You can find it in multiple rooms.
I am from Randolph County, NC, even though I moved to a neighboring county seven years ago. Why is this important? Because Seagrove, NC is the state's pottery capital. You can bet this Randolphian has a few pieces of glazed pottery in her possession.
Antique cast iron skillets are awesome, but, unfortunately for me, they have been difficult to find. I also found these great candles in cast iron skillets at Tractor Supply in the Christmas stock. They are not food safe, but they're going to look great hanging in my kitchen when the candles are burned out.
I also like Vintage linens. Here we have flour sack tea towels in my kitchen.
Currently, I am trying to find a nice stoneware crock.
2. Glass canisters everywhere!
I am also using Mason jars to corral my kitchen utensils. We have tons of Mason jars, which we use for flower vases. They are cheap and easy to find, and they're so useful .
Aside from Mason jars, clear glass canisters are a win no matter where they are. They are great in the pantry, because you can see when your flour is running low and you need to buy more. They are also a pretty and efficient way to store your bathroom utensils. Looks like I need to buy some more cotton swabs soon.
3. Vintage prints and botanical prints
I am also a sucker for botanical prints. I printed this off the internet for free, and I framed it in this wood frame, which I later plan to stain. Also, check out that chicken wire basket holding my towels. The wicker basket probably won't stay, and I'll probably get another chicken wire basket.
Apologies for the bad reflection on the picture. No matter what angle I shot, I still couldn't get it to stop! Ugh!
We also have some vintage "watercolor paintings" in our kitchen. By watercolor paintings, I mean "I printed them for free off of thegraphicsfairy.com." Love that site!
4. Use natural elements
We also have this great burlap art behind our front door in some reclaimed wood frames.
...And more burlap art in our kitchen. In an earlier picture, I had two milk glass pitchers here, but I decided the print and one pitcher looked way better. The larger pitcher will be relocated, but I haven't yet decided where I'd like to move it.
Wicker baskets are great, not only for organizing, but for adding some texture and "natural" to your decor.
Reclaimed wood is a great way to add some "natural" to your house. By the way, I love reclaimed wood- I don't like to paint wood- I'd rather stain it and show off the wood, imperfections and all. I bought this neat reclaimed wood tray a few months ago from an online boutique.
Speaking of reclaimed wood, we are currently re-decorating our master bedroom and have ordered this reclaimed wood headboard from a local woodworker.
5. Farmhouse kitchens
I really, really, REALLY want an apron sink and butcher block countertops. Since our kitchen reno is a few years away, I'm currently researching and price-checking. I would love something like this: distressed black cabinets with a copper apron sink and a butcher block countertop.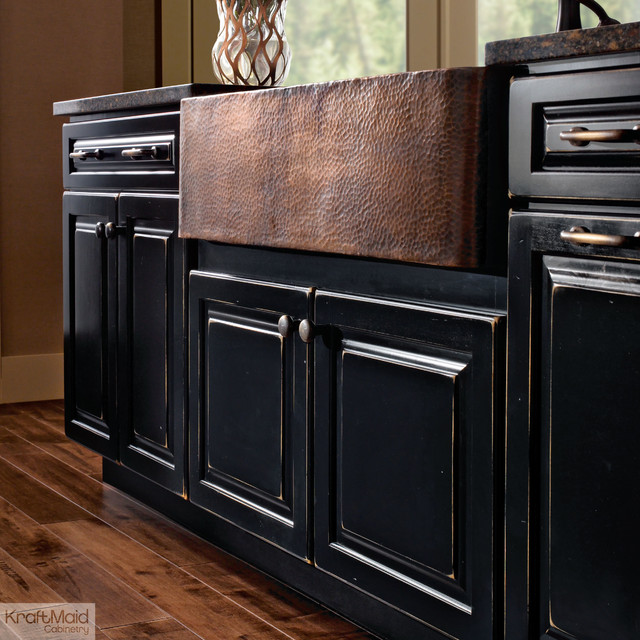 6. White dishes
White dishes really go a long way in bringing that farmhouse feel home. Ours are Mikasa French Countryside.
We still haven't gotten our new table and china cabinet, but when we do, you can bet that gorgeous milk glass and bean pot collection will be on display!
Our farmhouse transformation is far from complete. There is still soooo much we want to do. I can't wait to show it all to you.