Good Saturday, all! I hope you had a great week. At our house, it's been a good week, but a busy one. We went back to school this week in our district, and this teacher is certainly living up to this meme: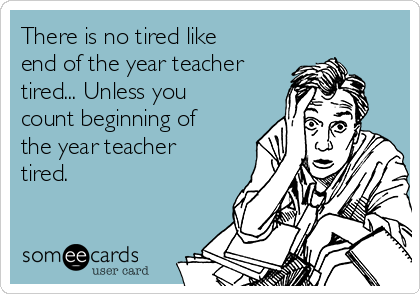 Things are off to a good, very organized start, and that always makes life a little easier. Having a good, strong routine at home has helped as well. Here is what I shared this week:
On Friday, I set aside my usual DIY Fridays post to participate in Jen Jones' #4days4drawers challenge. My first drawer that I organized was my baby's changing table drawer.
On Thursday, I shared some of my favorite ways to get organized, and I shared them in the form of my home binder, my planner and my to-do list.
On "Wordless Wednesday," I shared two of my favorite pics of the week, including this super sweet back to school pic of my daughter.
On Tuesday, I debuted my new "Get Organized" series.
On Monday, we shared our recent Ikea purchases and how we're using them.
Tune in this week for the following posts:
1. Nursery Reveal
2. A new sponsorship
3. Best organizing apps for your Smartphone
4. Recipe
5. Wordless Wednesday
6. Best of the Blogosphere and weekly recap
7. Sunday Musings
And of course, here is some reading I have enjoyed this week:
Tune in next week! I hope you have a great weekend!
\